Krishna Plastic Industries is the foremost manufacturer, supplier and exporter of Plastic Valves, Plastic Ball Valves, PP Valves, Payal Valves in India,  that has come into existence since 1995; our organization has grown steadily, with a strong foundation of technical, commercial and production facilities. We are dealing with different types of Plastic Valves such as Agriculture Ball Valve, PP Ball Valve, PP Valve and Irrigation Valves, Polypropylene Valves, PP Flush Valve, PP Three Way Valve, Fertilizer Injectors, PP Non Return Valve, PP Solid Ball Valve, PP Union Valve, Thermoplastic Valves, PTFE Plastic Valves and so on.
In the span of just couple of years the industry was ready for expansion, as it was encouraged by tremendous response from the market. Our manufactured plastic valves are ideal for Agriculture and Residential usage and have been widely accepted in India and abroad for the same. Before the delivery of the products to the clients, it passes through a strict testing and quality assurance measures and backed with quality guarantee.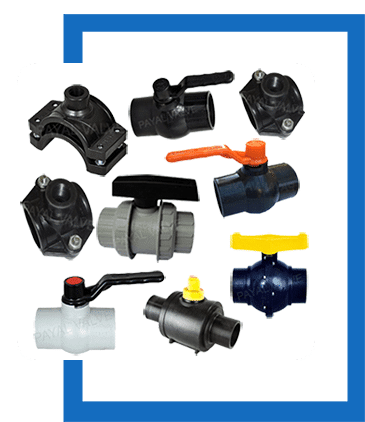 Plastic Valves Manufacturer
We are adjusting various kinds of materials from Plastics for your different application needs. Krishna Plastics is outstanding manufacturer of products in a tremendous scope of materials. Contingent upon the attributes of the liquid weight, temperature, chemical composition and on the external environment temperature, UV rays and it is imperative to pick cautiously the materials of the valves.
We are using different types of Thermoplastic Material for manufacturing different types of Plastic Valves according to the needs of agricultural usage and residential usage.
WE ARE ENGAGED IN OFFERING A WIDE RANGE OF PLASTIC VALVES TO EACH AND EVERY INDUSTRY IN DOMESTIC MARKET AS WELL AS IN INTERNATIONAL MARKET
As we have gained huge profit in domestic market now we have expanded our business in the international market especially to European countries, where the valves manufacturers are hugely demanded and most prominent. We supply our products to the European market as the clients over their target for the specialized products and sub contracting their parts as it is known as production to low-cost countries. As we all know that the European Market for Valves is scattered and there is no single country that absolutely dominates imports. Germany is the largest importer of valves,
representing a value of €3.1 billion in 2015. It is followed by the United Kingdom, France and Italy. Central European countries, Eastern European countries and Baltic countries are expected to show higher import growth for valves than western European countries.
We are even exporting our Plastic Valves such as Plastic Irrigation Ball Valves, Thermoplastic Valve, PTFE Plastic Valves, Agriculture Ball Valves, Solid Ball Valves, PVC Ball Valves, Plastic Ball Valves, Three Way Ball Valves, Union Ball Valves, PVC Flange, PVC Pipe Connector, Pipe Joint Coupler, PVC Pipe Connector, Repairer Saddle, UPVC Ball Valve, Air Release Valve, PP Air Release Valve, Drip Air Valve, Drip Venturi Fertilizer, PVC Cock, PP Coulper, PVC Pipe Connector to different countries where the manufactured diverse range of Plastic Valves are availed in US, Canada, Mexico, Chile, Colombia, Peru, Russia, Saudi Arabia, UAE, Iran, Iraq, Thailand, Philippines, Indonesia and Malaysia, South Africa, Netherlands, Germany, South Korea, Japan, Turkey, Canada, Taiwan, France.
The Below Mentioned Is The List Of Industry Market Where Our Offered Plastic Valves Are Offered Hugely:
Oil & Gas
Energy & Power
Water and Wastewater Treatment
Food & Beverages
Chemicals
Pharmaceuticals
Construction
Pulp & Paper
Metals & Mining
Agriculture
Textiles
Glass
Semiconductor Manufacturing
Our Offered Product Ranges
Plastic Ball Valve Maintenance
Our manufactured plastic ball valves are having a spherical disc, which controls the flow of the water or air through the pipe. As it is well-known that this plastic does not imply the PVC ball pipe as it is resistant to wear and tear. With the consideration to the repair of the PVC ball valves, we just need to known the nuts and bolts of pipes for specific chore ability to gain the fault and enable to amend the other diverse issues that will be experience in piping system.
When it is required to replace the damage parts, first thing to do is apply petroleum jelly or greasing up oil to the valve to make sure that the substitution valves does not have any issues. To separate the valves from the pipes and returning back is all together a very simple way, the only thing to do maintain all the nuts and bolts of the pipes safely. Secure the parts utilizing the screw before you test the ball valve for any breaks by turning on the primary line of your pipes framework. At that point verify whether the PVC ball valve still has leaks.
Benefits Of Plastic Ball Valves
Effectiveness :
Ball valves don't require any lubrication, and offer a bubble- tightseal with low torque.
Affordability :
They can frequently be purchased at a significantly lesser cost than analogous products for the same job.
Easy to use :
Ball valves are moderately fast and simple to install, and plastic ball valves are light and trouble-free to handle.
Simple to repair :
Easily access the seats when a valve requires fixing.
Robustness :
They offer a long service life and, when used under the right conditions, will present many years of consistent use. Ball valves are less flat to damage than other kinds of valves, and the plastic variety aren't vulnerable to corrosion.
Multitalented :
They're appropriate for a wide range of industrial applications where it's necessary to regulate the flow of liquids or gases.
Strong :
Ball valves can maintain and regulate high pressure, high volume and a high flow of temperature.
Since our establishment, we have had the option to deliver a standard of accomplishment in the market because of premium quality and appealing highlights of our items. Our principled exchanges and reasonable practices of the exchange have empowered us to win the affirmation of huge number of clients all through the universe.
Trust in our experience
Trust in Our authority
Trust in our solutions
Trust is our production capacity.
Trust in our financial management capacity.